Abominable Snowmansion Hostel

Arroyo Seco (Taos), New Mexico

The Abominable Snowmansion

Taos Ski-Valley Road,

Arroyo Seco, NM 3271

Tel # (505) 776-8928

Rates: $13/summer HI member


$24/winter HI member

$35-70/private
Credit cards: DISC, MC, Visa

Beds: 36

Affiliation: Hostelling International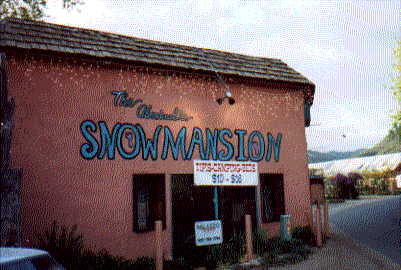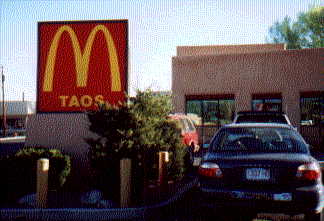 Below: Santa Fe, NM early in morning on way to Taos.


From Sandia Mountain I took the "Enchanted Highway" to Santa Fe. Walked around. Bought some ear rings for a friend. They were made by the Zuni Indians.

On my way to Taos, I saw a highway sign for Los Alamos--50 miles. Decided to go there. Beautiful, huge mountains. I saw smoke in the distance. It couldn't be Los Alamos? It was. Some of the people who had evacuated the night before were returning. But the schools, museums, and tourist centers were closed. The smoke was still heavy in the air. Stopped in a small store, the woman was in the process of closing. She said that all the campgrounds were closed except one.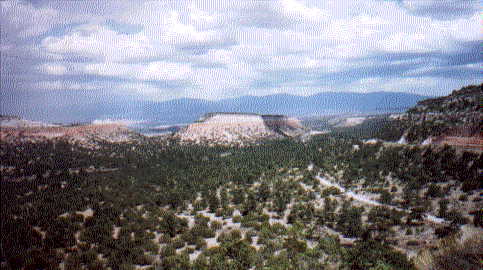 Above: Road to Los Alamos


Stopped in a gas station while in Los Alamos. The attendent told me he was leaving, he'd heard that the fire was getting out of control again. They'd be another evacuation.

Drove down the mountain road to check out the campgrounds. There were police cars blocking the entrances to all except one. I drove in and looked around. It was deserted and a lot of the ground was charred from the fire. I decided to continue on to Taos. If the fire circled back, they'd be no way out.

As I was driving down the mountain, 5 or 6 more fire engines passed me going up. Later I heard on the news that they had evacuated again.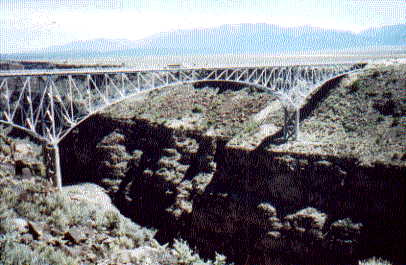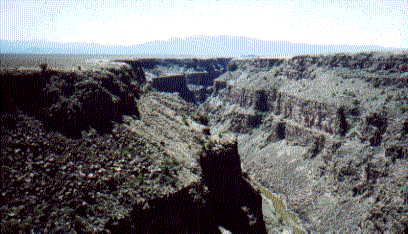 Drove over the Rio Grande Gorge on the way to Taos. Got out and took pictures

Hey, my car parked by the Taos McDonald sign! But I ate at Denny's 'cause they have big tables to lay maps out on, smoking area, and bottomless cups of coffee.