Comanche Motel & Hostel

Fort Stockton, TX

Comanche Motel & Hostel

1301 E Dickinson Blvd.

Ft. Stockton, TX 79735

Tel #(800)-530-3793

Rates: $8-12/person

$24.95-$35.95 private

Credit Cards: yes

Affiliation: None

Office hrs.: 24/7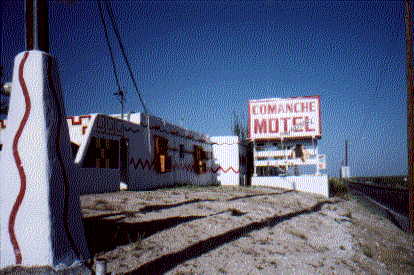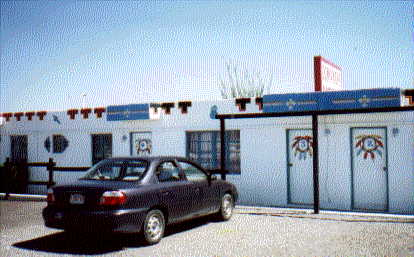 After leaving San Antonio, I visited Del Rio, Tx, and crossed the border into Acuna, Mexico just to see what it was like. Went into a store there to buy a pack of cigarettes. Looked around a little bit. It was so hot and crowded I just turned and came back over the border. Headed toward Fort Stockton and the Comanche Motel & Hostel.

And what a blessing it was when I got there to find a frosty air conditioned room, a clean cool shower, a refridgerator, clean bunks, and cable TV! I made good use of them all!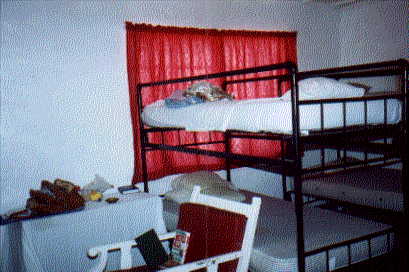 My car parked safely right outside my door. Had the whole room to myself again.


Photo on right is the empty dorm room. There's my "Hostels USA" guidebook on the chair. After a long day of driving & sight-seeing, I like to kick back and check out all the places that I could possibly stay the following day. If there are no hostels in the area, then I know that I better look for a campground.

I chose to sleep on the top. I figured it would make it a little more difficult for a tarantula to climb up to reach me. Plus, I know that they are too heavy to climb up walls or across the ceiling. I also know they don't seek people out on purpose, but I didn't want one to accidentally stumble across me on his way to 'someplace else'.

I asked the manager if they ever see Tarantulas around there. She said, Yes, sometimes they have a problem with them coming out to sun themselves all over the parking lot.

And I asked her if they ever find scorpions in any of the rooms. She said, "rarely". Well, "rarely" was too much for me--I stripped my bed and turned the mattress over making sure that this day would not be one of those "rare" times when one shows up in the room. Not in MY bunk!

But I made it through the night in one piece. After I got settled & relaxed, I didn't even really worry much about anything crawling around. I was too tired. And who cares anyway--I'll just go and get the anti-venom shot. What the heck--I'm tough.

This is just all part of the 'fun' of the road trip. Not knowing what to expect, learning new things, pushing your fear limits almost to the point where you don't really care all that much. Face it, and get on with it!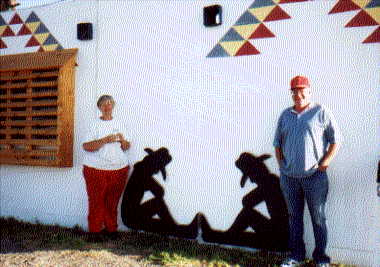 These were the managers of the hostel. They were both friendly, and shared some conversation with me that I very much needed at this point of my journey. It's always good to meet people along the way who like to talk and share a little time with a traveling stranger.

In the morning it was 52 degrees in Ft. Stockton. Felt wonderful! Coffee was brewing for me in the office. We said our good-byes and I was off headed toward Marfa before the sun got too high in the sky.

It would be another long, long, long day!