Left Bells Hostel early in the morning heading home. Took a wrong turn, went about 100 miles out of my way. I got suspicious when the sign read "South Carolina". So I turned around and got back on the right road
.

For some reason I felt an urgency to get home. Maybe it was because of 9/11 or maybe I was just getting lonely and homesick. So I drove, and drove, and drove all night. Felt good to cross over the Massachusetts border.

The trip was fantastic, and I can't wait to do it again. But it's always a good feeling to get home again.
And I'm sure glad that I finally buckled down today and completed this web page!!! It's done! I can't believe it. I just have to update some of the links to make sure they still work.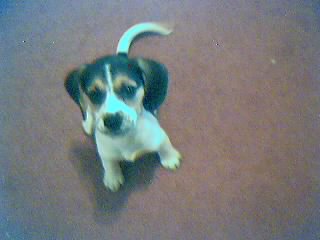 Hey, here's a picture of the pup I got in Sept. 2002. She's a beagle. I named her "Amica". That's "friend" (feminine) in Italian. Ain't she sweet!

But I don't think she'll be coming with me on my next trip. Most hostels don't allow dogs. Plus, it will be too hot for her in the car. I'll have to find good babysitter for her though.

Well, it's past mid-night. I'm tired. Signing off for now! Thanks for reading my web site. I hope you enjoyed it!

I've got to find a picture of my 13 yr. old "Puddy Cat" too. I'll put that up tomorrow (well, I have to find a photo of her first.)

Now, today is June 29, 2005 and I've been going back reading my web site stats to see how many people have read my web site since I put it up in 2002. Over 31,000 people have "clicked onto it"!!! Wow! But so far only about 200 have signed my guest book.

Now it April 2007...Wow! Time is flying and I haven't been able to go on another trip yet.

Anyway, over 60,000 have looked at my site now. Still not many "signers" though.

I love reading what people have to say. So, if you made it this far reading my web page, please click below where it says, "click here to go back to Home Page" and please sign my guest book. Please!


Yes, yes, please sign the guest book!!!

Just click above where it says "click here to go back to Home Page".