Beez Kneez Hostel

Whitehorse, Yukon

Canada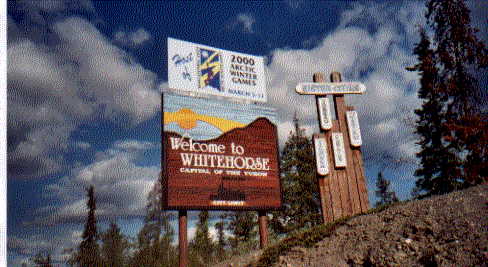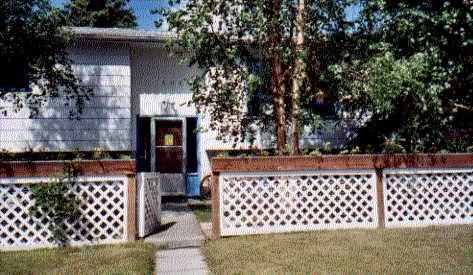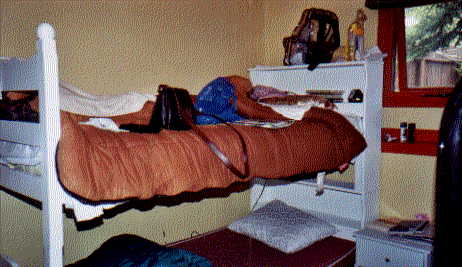 (Journal: June 13 5PM)


Woke up in Watson Lake at 2:15 AM. It was light out. Couldn't get back to sleep.

Later, heard a couple drops of rain on my tent. I jumped up and was packed and ready to leave by 5 AM. Drove to Whitehorse.

Drove all day again. Arrived in Whitehorse, Yukon around 3PM. Exhausted. Couldn't decide what to do. I had come to a split in the road (the only split). I could either continue north toward Fairbanks (which was STILL a long way to go--about 600 hard miles) or I could take the only other road--it lead south towards Haines, Alaska.

This was my last chance to turn, head south, and still make it to Alaska. I could even catch a ferry in Haines and take it all the way to Bellingham, Washington. Nothing to worry about, relax, sleep, enjoy the cruise--the heck with the cost.
Again...

Doubts & Second Thoughts...


Or, I could keep going. All the way! I'd never be back here again. Now's my chance to see the REAL Alaska! Go north! Go north! So it won't be easy--I can do it!

This was a big decision. Had to think about it. Stopped in a small restaurant. Ordered coffee through blurry eyes. Checked out my maps. Looked through my hostel books. There were no hostels listed in Whitehorse in either of the two books that I had with me. At least if I had someplace close to sleep, I could make my decision in the morning. According to the hostel book, the next closest hostel was in Dawson City--too far to drive tonight. Needed to do more thinking. Was feeling kind of down. Was really considering go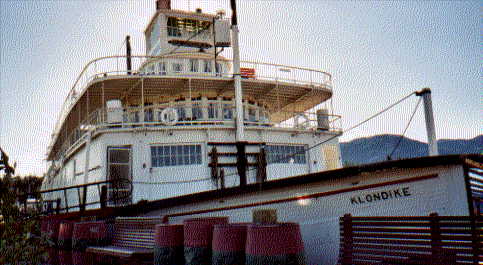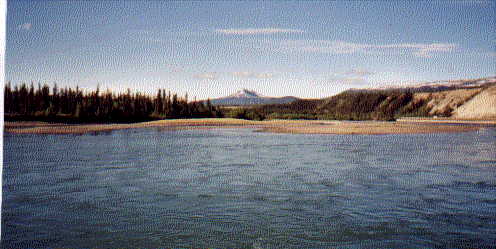 Above: Newly opened Beez Kneez Hostel, Whitehorse.

Below: My bunk. Ahhhh...Sleep!

Beez Kneez Hostel

408 Hoge Street

Whitehorse, Canada

Not in Book--just opened


Found a phone booth, and called my son, Luciano, at work just to say, "Hello", tell him where I was, and the decision that I was trying to make. Sometimes it helps to talk to someone else. His co-worker answered the phone. Luciano wasn't in the office. So I asked the man to tell Luciano that his mother called to say, "Hello from Whitehorse in the Yukon."

Decided to drive a little ways into Whitehorse to see what it looked like. Maybe if I found someplace to stay, I'd stay. Then, like a miracle, I saw a very little sign low on the roadside. It said, "Hostel" and pointed toward Whitehorse! That was it! That was all I needed to decide whether or not I was going to take the road south to Haines or stay on the road north to Fairbanks. Fairbank it was!
Left: The Yukon River. Photo taken from the dock in Whitehorse.

Below: The "Klondike" on the Yukon.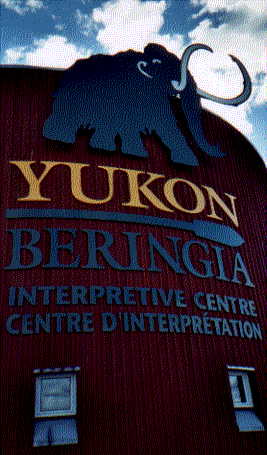 Left: Visited the "Beringia" Interpretive Center just outside Whitehorse..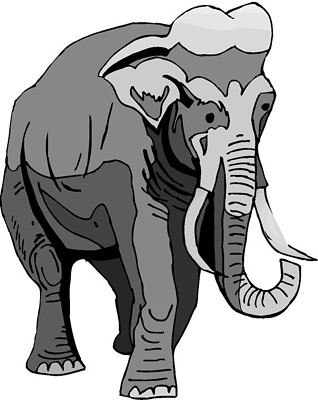 Nope, it's a Woolly Mammoth.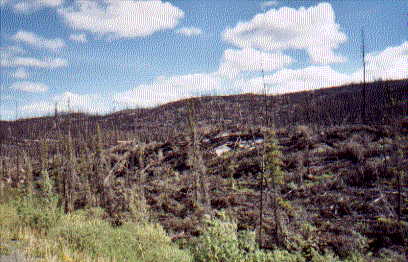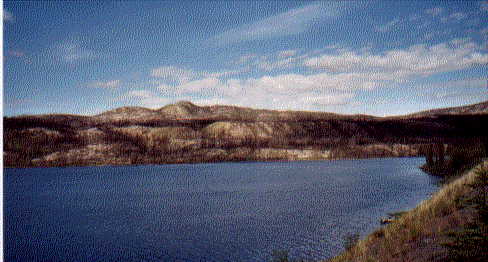 Above & Right: After I left Whitehorse and headed towards Dawson City, I drove by mile after mile of forests devestated by wildfires. ALL the vegetation was destroyed. And this was from a fire that happened DECADES ago! I read that it takes an extremely long time for the forests of the far north to recover because there is such a short summer season.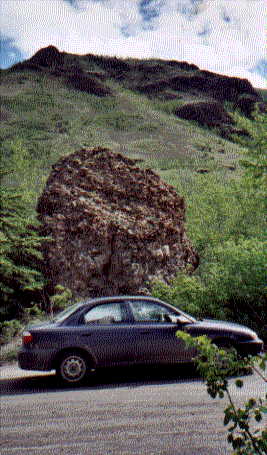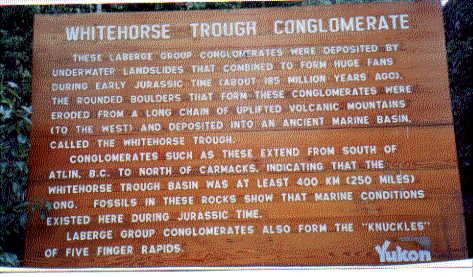 Above: Whitehorse Trough Conglomerate

What's that? There's one in the picture on the right--that big "rock thing" that had my car parked in front of it.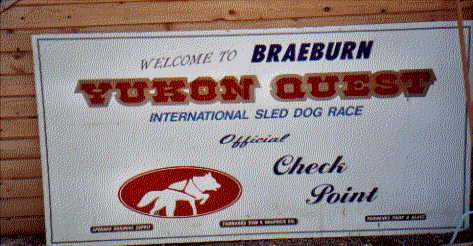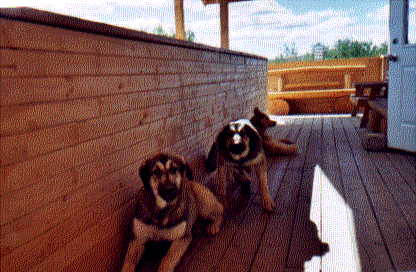 Left: Further up the road I stopped restaurant/general store for a cup of coffee. The store was also the "Official Check Point for the Yukon Quest Dog Sled Race.


Left: If these dogs look like they were in "attack mode", the were! I now know where the phrase, 'let sleeping dogs lie' comes from. Here's what happened. When I walked into the store for coffee, the dogs were fine and friendly when I walked by them.

When I came out of the store and saw them quietly asleep on the porch I just had to take their picture. So I crouched down, pointed my camera. Snap! They moved so fast I caught them in "mid-attack". But they didn't bite. They just jumped up, lungd at me showing their teeth and placed their growling muzzels firmly against my thigh. I froze and let out a little yelp of my own! The owner ran out and got the dogs by the collar. I explained that it was my fault. I should have thought ahead that it might startle them to wake up to someone kneeling down about 2 feet from them and flashing a light in their faces. No harm done. I'll never do that again.
To learn more about Whitehorse Conglomerates click here for their web site: