Hotel Congress & Hostel

Tucson, Arizona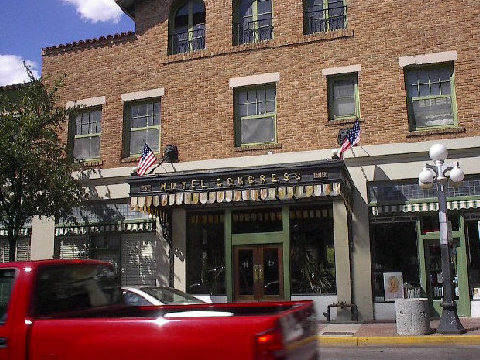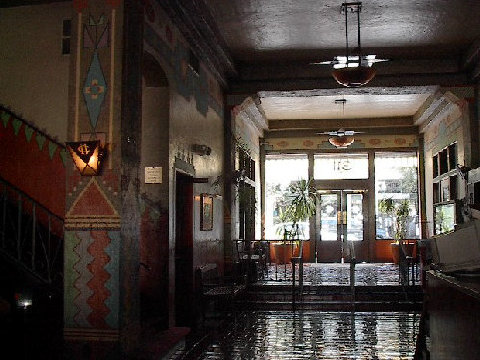 In the past 2 years I've stayed in over 50 hostels in the US and Canada. I have never been turned away from a hostel. Never. Except for this one.

I could understand being turned away if it were during a holiday, or if it was located in an extremely popular resort area--but it wasn't.

I had read about this hostel in my "Hostels USA Handbook". It warned about the possibility of being turned away--that they are kind of trendy and particular about who gets in.
I didn't really believe it
. I thought that perhaps for the first time my handbook was mistaken. Just to be safe, I timed that days traveling so as to arrive at the Hotel Congress Hostel in the morning. That way there would surly be a bunk available--after all, it's a large hostel with a large number of beds. Wrong.

I arrived there around 11am after 4 hrs. of driving in 110 degrees with no air conditioning. Drove around the city in heavy traffic, and finally found a parking space across from the hostel. Whew! When I asked the gentleman behind the front desk for a bunk, he immedietly told me that there were no bunks available. I told him that I wouldn't mind waiting a little while. Perhaps someone would check out soon. "Nope", he instantly replied. He told me that he had gone around to everyone and asked them. And they had all told him that the were staying another night. He wasn't very convincing.

I was thinking, "No way, check out is at 11am. In a hostel this big, someone has to be moving on." I kept my cool. There was nothing I could do about it. I sat in the lobby for a little while absorbing as much air conditioning as I could and wondering where could I go now. Being "turned away" wasn't in my plans for that day.

Then, after about 20 minutes of sitting in the lobby, he finally tells me about another hostel in town where they send people who can't stay at their hostel. It's called the "Roadrunner Hostel". So I went there and was glad I did. I liked the location better, quiet neighborhood, and plenty of parking. And best of all--friendly, inviting managers who welcomed me!
The Hotel Congress Hostel

I have never given a really bad review of any hostel, but, this one would qualify--as far as hospitality goes.

Well, from what I saw of the lobby, the place appeared very clean. I really would have liked to stay here.