Davison Street Guest House Hostel

Mammoth Lakes, California

Davison St. Guest House Hostel

19 Davison St. Mammoth Lakes

Tel. # (760) 2188

Rates: $13 -- 20/person

Private Rms: Yes

Beds: 22

Affiliation: None

Office hrs.: Vary; call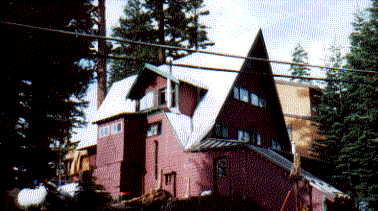 Above: Davison Street Guest House Hostel

Above: Rt. 375 in Nevada on way to Mammoth Lakes, California


(From journal) Right now I'm at the Mammoth Lakes Hostel. Only one other guy was here. He said he hadn't seen a manager or anyone since he got here yesterday.

He's gone now too so it looks like I have the place to myself.

This place is a chalet surrounded by snow topped mountainsl. I set out this morning from Rachel, headed for Boundary Peak on the Nevada/California border. When from flat land to huge mountains in a matter of a couple of hours.

My Hostel USA book says that this place is usually empty during the summer. They were right.

The place is stocked with food (I'll buy my own), they have cable TV, VCR, and lots of movies. I might watch the news a little bit later.

Guess I get the best room in the house tonight. I'm choosing the private room with the queen-size bed upstairs right next to the TV room.
Tomorrow I might just skip Yosemite and San Francisco. I'm getting tired of traveling. I've had enough--the traffic, reading maps, worrying about where I'm going to sleep--hostel, tent, or car.


Thinking about just going to Lake Tahoe from here, then Oregon, Washington, then go home. I don't want to think about it anymore. Exhausted. Need shower, sleep.

May 24: When I woke up this morning, for a moment I thought that I was home in my own bed, but quickly remembered that I'm in California--and a long drive from home.

Still haven't seen a manager. I've got one $20.00 traveler's check left. I'll just write a check and put it under the manager's locked door.

Headed toward Lake Tahoe.