Las Vegas Independent Hostel

Las Vegas, Nevada

( no web site)

Las Vegas Independent Hostel

1208 Las Vegas Blvd. South

Tel # (702) 385-9955

Rates: $14/person


$26-28/private
Beds: 58

Affiliation: Rucksackers N.America

Office Hrs.: 7am - 11pm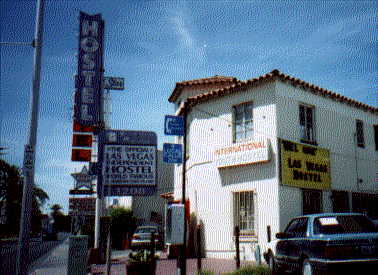 Above: Las Vegas Independent Hostel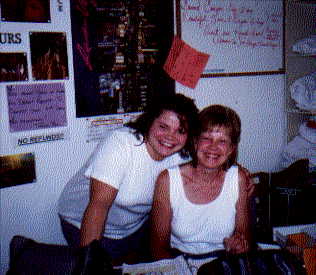 Above: Melinda is on the left--Room mate

Barbara is on the right--Hostel manager


From Quail Creek, drove to Las Vegas
Stayed at the Las Vegas Independent hostel for 2 days. Then decided to try out the "other" hostel, the Backpackers Hostel on Fremont Street.

Didn't care for the "Backpacker's Hostel" so I came back here, and stayed for a week.


(From my journal) It's been a busy day. First thing I did when I got to Las Vegas was to find a hostel. Signed in for 2 days, at least I know where I'll be sleeping the next couple of nights

Then I went to the Hilton to try the "Star Trek: The Experience" ride. It was definately worth going to.

When exiting the ride, people had to stand in line and told that if they signed up for a Star Trek credit card, they'd receive a gift. I signed up. Got a 6-pack of blue-colored "Romulan Ale".. Had it shipped UPS to Luciano. Thought he'd get a kick out of it.

Went to Quark's Bar and ordered a "Klingon Blood Wine". Also had my picture taken with a Klingon woman and a Ferangi man.

Called Don in Sea Tac, WA and told him about the Star Trek ride & Quark's bar. He said he'd be coming within the week. So I'm going to wait here in Las Vegas for him. I should find plenty to do, even though I do not gamble and have no interest in learning.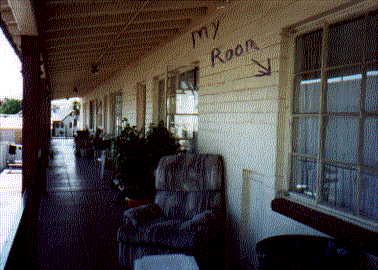 My room. It was on the 2nd. floor and had a balcony with a large comfortable chair right outside the door. Across the street was one of those "Quickie Wedding Chapels". We sat on the balcony & watched numerous theme weddings.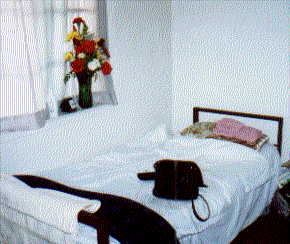 I was still in the hostel on Mother's Day. My son, Luciano and his girlfriend, Julie sent me these flowers.
That was so thoughtful!!!


After Quark's Bar I went back to the hostel. Dropped the car off, and walked to the Stratosphere for the buffet. Rode the elevator to the top.
May 13:

Up & out by 7:30 AM. Got oil change at Pep Boys. Breakfast at McDonalds. Drove to Hoover Dam....

Below: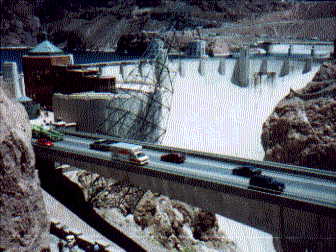 When I got back from Hoover Dam, walked around Las Vegas taking pictures. Slipped in a puddle and did a split in the middle of the road. Didn't hurt much, but was kind of embarrasing walking back with wet shorts and muddy legs. Those cheap sandals are history!

Met my room mate, Melinda. We get along well. Sit outside watching people walk by under the sidewalk below the balcony.

Met another hosteller. His name is Bob. He's lived in Las Vegas before so he showed me around. He knows where all the free shows, cheap buttets , and breakfast specials are. We had a good time.
May 19


Got up at 5:30 AM yesterday and drove to Death Valley and Scotty's Castle. What a trip. I wanted to stop around every corner (yes there are corners in Death Valley) and take pictures! Drove about 400 miles in all. Got back to the hostel around 4pm.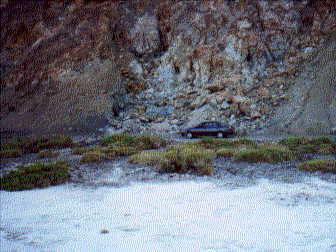 Right: Death Valley

See it's not all flat.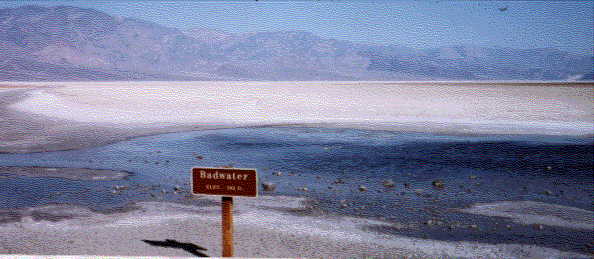 Above: "Badwater" in Death Valley is the lowest point in the northern hemisphere at minus 282 feet below sea level.


Drove back to Las Vegas, cooled off.
Went to the Lexus and saw "Blue Man Group". Had my picture taken with them after the show.


May 22nd. It's time to leave Vegas!

To learn more, check out their web site: